Many of you asked me to do a hair tutorial. Well here it is! What I do to my hair is nothing special, but I hope you guys find it helpful and enjoying. Also I wanted to debut my new favorite lipstick. Impassioned by MAC. I just adore it. Anyway, to start off this me with straight hair. Don't mind the facial expressions. Just me being sill-AY.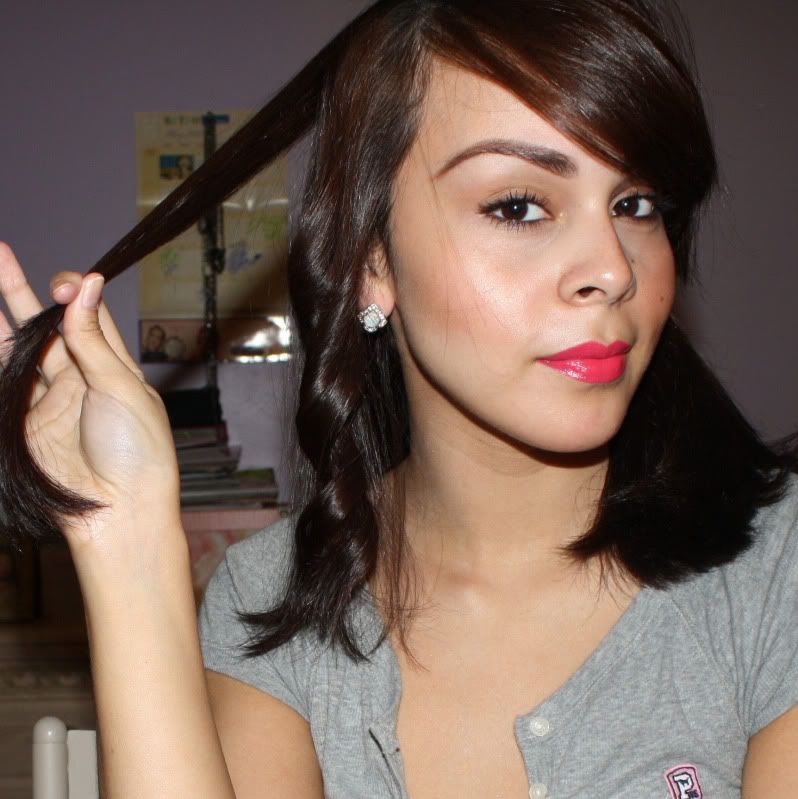 As you can see I don't curl my ends. By not doing so gives it a more natural tousled look after you're completely done. (like my purple hair clip?) :-D
Time to shake, shake, shake! I don't like Shirley Temple curls. ( Although she was adorable)
Tada! How I usually wear it.
When I don't want my hair touching my neck (because sometimes it bothers me) I simply wrap it up in a bun and leave my bangs out and some extra hair out.
By the way the Big Ego title on my previous post is just a song by Beyonce. Listen to it. It's called Ego. Maybe after you listen to it, you'll get a "Big Ego"...Joking. You know most of her songs are women empowering. Not at all am I full of myself. Am I confident? Yes. Everyone should be. Everyone should embrace their blessed features and flaws. Love yourself. If you don't, who will?
Take a chill pill. Relax and enjoy my blog. ;-)
I received more questions. I figured I'd just answer them now.
1. Have you met any Bloggers?
No, I have not
2. Have you ever been in love or are in love?
I am in love
3. Are you into sports?

OMG...I pulled my hair and bit off my nails watching Cleveland Cavs VS Orlando Magics.

4. What is your worst fear in life?
To lose my parents.
5. Are you married?
No, I am not. But I want a yellow diamond! lol
6. How often do you hear 'I love you?'
Everyday. I am Loved! haha
7. Do you have any pets?
I don't, but I do want a lab retriever. I love big dogs.
I'm not the one to carry small dogs in their small designer bag. I want a Luggage! lol
Thanks for all the lovely comments! You guys are the best fashion buggies! XOXO