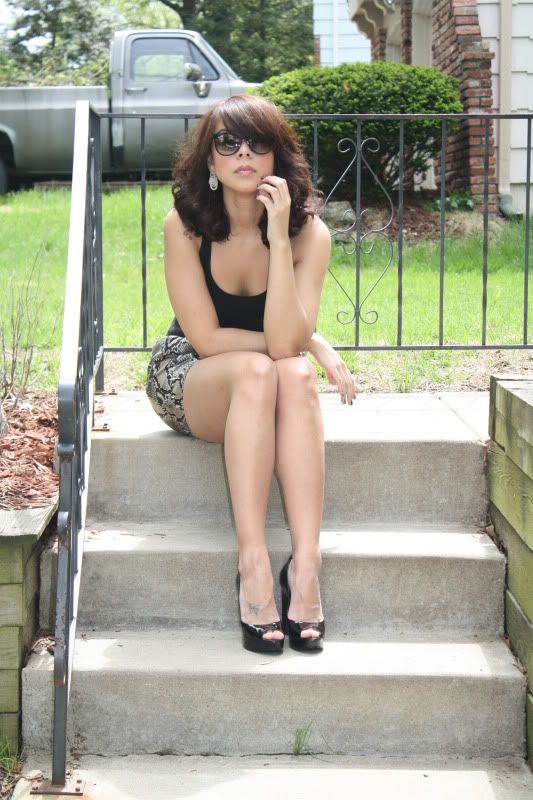 1. who's your fashion icon(s)?

I love Ashley Olsen. Her look is always cool and relaxed, but as far as Icon I'd say my Mom. Every piece she wore back then was worn with style. I would just love to just sit on the bed and watch her put her outfits together. She was also big on earrings.

2. I read you were a makeup artist, where can I see more of your work?

I am in the process of putting my work online. When I do you will be the first to know. ;-)


3.Do you smile at least once a day?

Haha... I do actually. How miserable would I be if I didn't.



4. I would love a hair tutorial...What are your shopping tips? Do you shop in stores or more via internet?

I will try to do a hair tutorial. I kinda wouldn't know where to start because I don't do much to it. After I wash it I simply just blow dry it. That's all and If I want loose waves, then I'll curl it. My shopping tips: Don't follow trends too much. Wear what flatters your body. At the same time buy what you like don't be afraid to take risks. I do most of my shopping via internet. Especially for shoes.





5. What advice would you give to tall girls who are skeptical about wearing heels?


Wear them! Show off those long legs! You don't necessarily have to wear 4 inch heels. Start off with 2 inches and work your way up as you get more comfortable.




6. Would you date a guy that is shorter than you?


I am 5'10" so I wouldn't go too far down. Even If I were 5'5"
I would still like a tall man. If you're in love, things like that shouldn't matter, so try not to fall in love lol...I think 2 inches shorter is the max for me.




7. What is your job? what is your dream job?


I am a freelance makeup artist. I don't really have a dream job. I love makeup, fashion and kids. Becoming a successful make up artist, working for a high fashion magazine or being a teacher would make me very happy.




8. Have you ever dated a shorter guy in the past?


No, I haven't.




9. What nationality are you?


My Mom is from Honduras and my Dad is from Puerto Rico.


10. When did your interest for fashion start?
It was probably around age 7. My mom has stacks of Spanish fashion magazines. I remember one of them called Vanidades. I loved everything about it. The colors, the shapes, the jewelry, the makeup and so on. Of course I was seven, so I really didn't incorporate any of it into my wardrobe. :-)




11. Can you PLEASE do a makeup post on this look? http://img2.timeinc.net/instyle/images/2008/dbf/121608_rihanna_400x400.jpg


Sure, I will try my very best to do it as soon as possible!




12. What is your fashion Pet peeve? Who are your favorite bloggers?


Denim on denim, short denim shorts/skirts with Ugg boots, and really pointy shoes.
Hmm. favorite bloggers...I'd say Sea of shoes. I just LOVE her shoe collection.
There's a couple more like Behind the seam, she's so cute. Chic Heroin also has that effortless Ashley Olsen look to her.



13. Where in New York do you live?


Bronx





14. What are your two tattoos of (right shoulder and right foot)?


Right shoulder- 3 Stars. Right foot- Butterfly. I also have a cherry on my torso, Rose & the word Love on the back of my neck and the number 8 on my left wrist.



15. Any secret talents?



I think just singing. I love to sing. Once I start you can't shut me up. haha Oh and I cut and style my own hair. I went to beauty school so I don't waste money on Manis, pedis, or my hair and most importantly- I don't let ANYONE mess with my eyebrows. Grrr






16. Can you drop like its hot? What is your skincare regimen?


LMAO Celly, I can drop it. lol....My skincare regimen is pretty much the basics.
I use the ALBA products, which you can find at Target or Riteaid. At night time I was my face with Alba pineapple facial cleanser, then follow up with Alba toner, and facial moisture cream. Once a week a facial with Alba papaya facial mask. For under makeup I use Nivea Creme.





17. What camera do you use?


I use Canon EOS Rebel XS





18. How old were you when you got your first pair of heels and what did they look like?


I believe I was 10 yrs old and it was a pair of Ninewest red ankle strap wedges. Maybe I'm wrong, but that's what I can remember.





19. Is there anything you would change about your body? If so, what?


I'm pretty happy with the way I am now. My goal is just to eat healthier
and work out more often to keep my body toned.




20. What is your favorite part of your body?


My legs and my stomach. Love my little 4 abs.. lol




21. How often do you work out?


Not as much as I should.




22. How often do you shop and where?


Once a week and most of my shopping is done via internet.
I find lots unique pieces this way.




23. Where is your favourite place to travel to?


Don't have a favorite yet, but I would like to go to Spain, Paris, Italy and even get to know a little bit of my own culture- Honduras.




24. What inspired you to start blogging about what u wear?


When I first started blogging I thought It would be mostly about sharing
my interest and inspirational photos, but as I read my favorite blogs, I got inspired
to share my style.




25. Who are your fashion inspirations?


Mostly fashion magazines, But I do love Ashley Olsen and Rihanna's style.




26. Name a few products that u cant go through the day without


Nivea lip balm, hand sanitizer, Altoid gum, Blackberry, camera, earrings, Mascara




27. What are your tips to have a perfect body?!!


First of all thank you! I don't think I have a perfect body at all.
Honestly, I don't have any tips. Like I said before I eat a lot, so
I have to try and get back on track to stay toned.




28. What are your favorite stores?


American Apparel, Urban Outfitters, Tani, Intermix, Zara, Topshop, Mango, H&M, Anthropologie, Free people, Etc...




29. What are your summer must haves?


Silk! Loving everything silk...And still can be refreshing in the summer.
Well, not in 90 degree weather, but who cares! I'm actually in the hunt for bubble silk shorts.




30. Are you a fan of vintage clothing?


I am actually. Most of the vintage items I own are hand me downs from my mom and sister. My friend Monique always finds the best vintage items. I personally don't have the patience. But they do have some great stuff that everyone finds, but ME!




31. How tall are you?


5'10"





32. How much time a day do you spend blogging?


About 1-2 hours a day.




33. How many shoes do you own?


I've sold a couple and I have not counted. So I'm guessing maybe about 80-90 pairs.




34. Can you do a closet post?

In due time I will ;-)




35. How many pictures do you take and how long does it take you to post them?


About 10 photos per outfit. I usually post them at night.




36. Any advice for those of us still adjusting to the four-inch and up styles?

My max use to be 3 inches, since I really didn't want to be in pain, but HELLO to platforms! Makes the four and up inchers a lot sexier and comfortable. So if you're gonna a mile high shoes, make sure it has some sort of platform.




37. what's your standard method of shopping?


Buy what I love. Buy what flatters my body.




Hope I answered all your questions! Take care!

Zara skirt, James Perse Tank top, PLV Peep toe pump, Cat eye oversized Rayban sunnies.