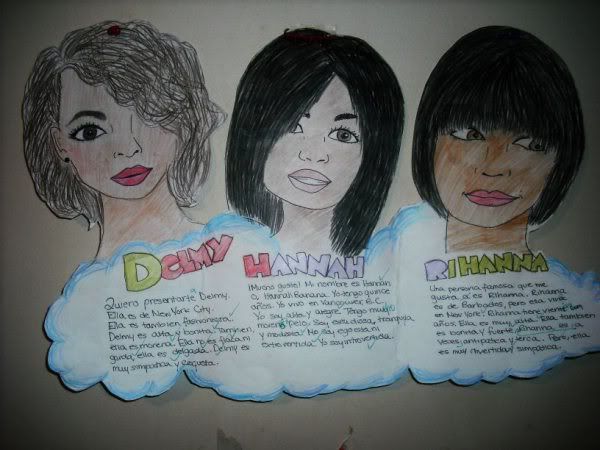 Hannah, a sweet reader e-mailed me a project she did at school of people that inspire her.
She included me in her project. I love it and as you can see her teacher loved it too. It is in Spanish. It says: Quiero presentarte a Delmy. Ella es de New York City. Ella es tambien fashionista. Delmy es alta y bonita. Tambien ella es morena. Ella no es flaca ni gorda. Ella es delgada. Delmy es muy simpatica y coqueta.
To all my readers thank you very much for all the kind comments and e-mails. I know I have said this many times, but it means a lot to me. Last night I had a wake up call. Something was said to me and it made me realize that there is no point staying in my room crying. Truth hurts, but at least now I know it. God is listening to me and I thank you for including me in your prayers.
Q&A part II

1. Can you do a makeup tutorial soon? Yes, I will. Soon.

2. What clothing stores do you shop at that is affordable? Forever 21, H&M, Urban Outfitters, Zara, & Topshop.


3. I noticed that you wear blazers a lot. If they ever got out of style, would you not wear them? I would still wear them . I wear blazers because they are comfortable. They are like my cardigans.


4. Where do you get your idea from when picking an outfit to wear for the day? I usually just stare at my closet for way too long, then just decide for one particular piece that I want to wear and work around that. Other times I get inspirations from my fashion magazines.


5. How did you become so involved with fashion? I have loved fashion since age of 7. At the age of 13 I started experimenting with my moms clothes. Then at 16 I became a shopaholic. I love everything about it. Fashion is music, makeup, handbags, shoes, clothes. Its a part of me.


6. What is the first thing you think about when picking out an outfit? Depends on my mood. If I'm feeling good and happy I'll wear my highest heels. But If I'm feeling crappy I usually just wear flats. Also if I'm rushing out the house.


7. Do you go against the weather forecast when choosing an outfit? HAHA...I usually do! All in the name of fashion right?


8. What makeup schools did you go to? I attended Christine Valmy and American Beauty Institute. I also tried MUD for a month...expensive, but worth it.


9. What is your occupation? Freelance Makeup artist, but soon will be heading a different direction. God willing.


10. How long does it take you to get ready? 45 minutes to an hour.


11. What sizes are you? I am a size 4 or 6/small. I buy medium or go one size up when I want that slouchy boyfriend look.


12. I want to be a makeup artist, but I don't know where to start. How should I start? Search for a beauty school in your area. Make business cards. Hand them to friends and give a couple to your friends and family to spread the word for you. Do before and afters with your friends and family. And go on from there. It all depends on how far you want to go. If its just a hobby or a career.


13. What is your favorite drink to have on a sunny day? Anything Mango! I love Mangos!


14. Do you ever leave the house without makeup? Yes, many times. I have to show my real face some time. haha


15. What is your motto in life? Hmm... So many, but here's a few. Show those you love that you care, before its too late. What doesn't kill you makes you stronger. And one that my mom says " Por algo las cosas pasan" which is things happen for a reason.


16. Who is your biggest inspiration? My mom all the way. She is an extraordinary woman.


17. Who takes all these pics for you? BF, Mom, family. Anyone that I can find.


18. What is your favorite holiday? I love Thanksgiving, Christmas and New Years Eve because its the only time when I get to have my family all together and talk shit.


19. What can I do to get over a break up? First of all I am sorry that you are going through that.
Break ups suck. I'm not going to sugar coat it. If you are in love with this person its going to hurt twice as much. My advice to you is cry all you can. Don't stay bottled up. Its not healthy. Let your friends help you and be there for you. Laughter is the best medicine. And of course pray. I've been there and I know its a difficult time.


20. How do you get your eyebrows to look so flawless? Check out my makeup labels to your left!


21. Do you speak Spanish in your house? Yes, I do.


22. Where's your favorite place to visit? Kansas City (Yea I know) HAHA Because that is where my family lives and they're my joy!


23. What is it about blogging you love most? I love everything that comes with it. My readers, sharing my fashion choices, new buys, etc. It's like my online journal. It's great feeling to share my highs and lows with so many people and receive positive feedback.



Hope I answered all your questions. I am very sleepy. Goodnight lovelies.