Finally. I have a black bag that I am pretty sure I will destroy soon. I have black bags, but none in the size that fit my world. I am in absolute love with it! If you're interested, you can purchase the
Trapped Jina shoulder bag here.
And of course I never leave without a pair of shoes. I was really looking for flats. I am into buying a lot of flats this season, but instead I ended up with this
See by Chloe lace up wedge boot
. They gave me a nasty blister on my ankle, but I still love them. Just means I'll have to wear higher socks. (wearing them with topshop sweatshirt, american apparel chiffon full length skirt)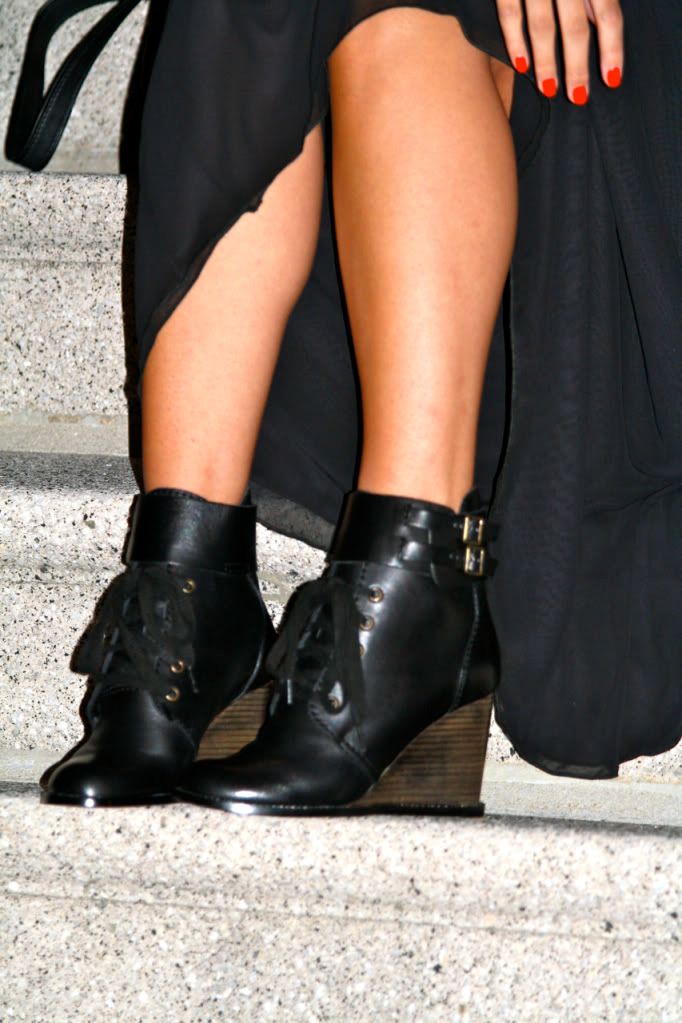 Those that know me, know that I am constantly trying to do something new with my hair. I get bored very quickly. One day I want it really short, another day I want it really long or I just want to change of color. Last Friday I came across a picture of a girl with bright red hair. Can't make out who's the girl since it was only a side shot. Anyway, I decided to do a darker version. I was afraid of my hair looking orange. So Tada! I love it! But lets see how long I last with it. Hope you guys love it too!
These last photos were taken a couple of days ago, before the hair color change. Thanks to ModCloth for this
En-wrap-ture dress
. Fits my body so well! Now I'm on the hunt for wrap dresses. Diane von Furstenberg here I come! (wore it with Kors by Michael Kors suede brown wedges)